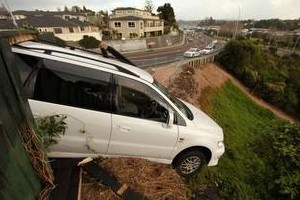 A foot on a wrong pedal left a car hanging perilously from the bank of a property on Eleventh Ave yesterday afternoon.
The mistake occurred when a man intending to reverse accelerated through fencing on a private property, leaving the front wheels of his vehicle hanging over the embankment.
The sole occupant of the vehicle was shaken but uninjured.
He did not wish to comment.
Constable Paul Gunner said the accident looked worse than it was and there was no grave danger.
"He has put his foot on the wrong pedal and instead of going backwards, he's gone forwards."
Mr Gunner said the accident would have been more dangerous had the vehicle been overhanging to the left, over public space and the road below.
As it was, the accident had occurred on private property and the cost of any damage would be incurred by its residents.
Richard Chamberlain pulled over to offer assistance by extending a tow-rope to the vehicle and called the driver "lucky but unlucky".
"I come up and I knew he was in the vehicle because the window-wipers were going," he said.
"We flicked this on to the back of his car to secure it, just as a precaution really.
"To be honest it probably wouldn't have fallen."
Mr Chamberlain said the driver was unfortunate and clearly embarrassed by what had happened.
One man on the scene, who did not wish to be named, believed the Mitsubishi Chariot, being a taller vehicle, was wedged in place where a sleeker car may have plummeted to the bottom.
A tow truck was called to safely remove the vehicle.
For more articles from this region, go to Bay of Plenty Times