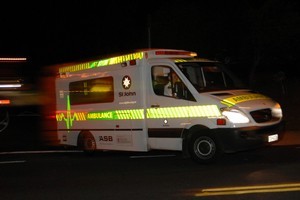 Relatives of a grieving mum desperately tried to save her life after she was hit in a Waikato road smash - just days after she had laid her son to rest.
Lesley Robyn Aitken, aka Lesley Turinui, 58, of Perth, was killed when she was hit by a car on Tuesday night on an unlit 100km/h stretch of State Highway 1B.
She had returned to Hamilton for her 42-year-old son Jonjon Puke's tangi last Thursday.
Whanau spokesman Wiremu Puke said Mrs Aitken went for a walk "for a bit of time out" from a relative's house where family were gathered near Gordonton, about 15km northeast of Hamilton, about 9pm on Tuesday.
Mr Puke said Mrs Aitken, his sister-in-law, was "in view of family members" when she was struck.
Family members rushed to help Mrs Aitken and were trying to resuscitate her when St John Ambulance paramedics arrived but she died from her injuries at the scene.
"I suppose it is very difficult for any mother in these circumstances to deal with these matters and she needed some time," said Mr Puke.
"But it was just a moment's inattention and the unfortunate situation happened," he said.
Police said conditions at the time were wet while the area between Taylor Rd and Piako Rd, where she was walking in dark clothing, was an unlit 100km/h zone.
Mr Puke said the accident was a devastating blow for the extended family. But he said the family were "not looking for blame in terms of the driver".
"These are difficult times for us all but our thoughts are with the driver as well ... it is traumatic for us all."
He said Mrs Aitken lived for many years in the Hamilton suburbs of Pukete and Te Rapa before leaving for Australia around 2005.
Despite remarrying, she retained strong links with home and would regularly make the long trip from Perth to Hukanui marae for family gatherings.
She was a strong community advocate and could often be seen at events supporting the Hukanui Rugby League Club.
"She was a very fondly remembered and respected woman, particularly in those places, she was a really good lady to be around," said Mr Puke.
It is understood that Mrs Aitken's husband Adrian returned from Australia last night.
The accident has lifted the number of pedestrian deaths in the Waikato region to five this year and road fatalities to 31.
Mrs Aitken's death follows that of 13-year-old Hamilton Boys' High student Shaun Malthus, who was struck by a car in suburban Hamilton on July 1 and died from his injuries on Sunday. His funeral is to be held today.
Waikato road policing manager Leo Tooman said initial indications showed speed and alcohol were not factors in the crash.
Mrs Aitken's death has been referred to the coroner and Mr Tooman said it was too early to say if any charges would be laid against the driver.
Mr Puke said his family were concerned about the high crash and fatality rates on SH1B - a popular shortcut for motorists travelling south and wanting to bypass Hamilton.
New Zealand Transport Authority statistics show three people have died within 250m of the crash site in vehicle accidents since 1990, while four pedestrians have been injured.
The tangi for Mrs Aitken is to be held at Hukanui marae tomorrow.