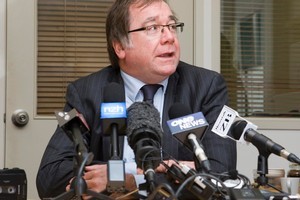 New Zealand Foreign Minister Murray McCully raised concerns today about China's aid strategy in the Pacific, urging Beijing to stop giving so-called "soft loans" to nations such as Tonga.
Mr McCully said finances in Pacific Island nations were being stretched by the soft loans, which come with a five-year interest-free period but have the potential to create a debt crisis when the repayments are due.
"I'd like to encourage governments that provide support in the form of so-called soft loans to do more of by way of grants," he told reporters in Tonga during a trip to promote this year's Rugby World Cup in New Zealand.
"That will leave specific countries knowing where they stand, knowing what their actual level of indebtedness is - soft loans are of course more difficult to characterise and assess."
China is the Pacific's biggest supplier of soft loans, according to Sydney-based think tank the Lowy Institute for International Policy, which estimated in April that Beijing had pledged more than US$600 million in the region since 2005.
Chinese loans account for the equivalent of 32 per cent of Tonga's gross domestic product, the Lowy Institute estimated.
"I've... signalled to the Chinese and other big donors in the region a strong desire on New Zealand's part to enter a partnership with them," Mr McCully said.
"The more joined up we can get the donors to be, the more transparent programmes are going to be in the Pacific and the better it is for everyone concerned.
"The issue with soft loans is there's always an element of doubt in everyone's minds about what might be forgiven later on."
The Lowy Institute has accused China of boosting its influence in the Pacific through soft loans, saying it gives Beijing powerful diplomatic leverage if nations struggle to pay them back.
Tonga's Acting Prime Minister Samiu Vaipulu said on Wednesday his government had adopted a policy of not borrowing any more money until 2013 in a bid to ease its debt burden.
He also said the government was in discussion with China about converting a 118 million Tongan Pa'anga (TOP) ($83.44 million) loan into a grant, which would not have to be repaid.
"It's still talk but nothing has been confirmed," he told reporters.
China's interest in the Pacific stems mainly from a race for diplomatic influence with Taiwan, which Beijing has claimed as part of its territory since the end of a civil war in 1949.
The rivalry saw some Pacific nations constantly change allegiance between Taipei and Beijing in return for increased aid, until Taiwan elected the China-friendly government of President Ma Ying-jeou in 2008.
While the diplomatic one-upmanship has cooled, the Lowy Institute said in April that Beijing believed the soft loans that would ensure Pacific nations remained on its side if relations with Taiwan deteriorated.
- AFP