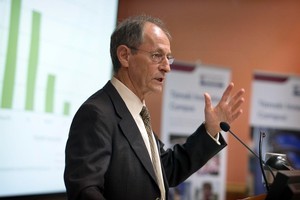 Forget an inner-city rail loop, build bike lanes instead and save half the money.
That was the message at a meeting on Auckland's health inequities yesterday from Dr Alex Macmillan, a physician and environmental health lecturer at Auckland University.
She said separated bike lanes could be created on every arterial road in the region and traffic calming could be installed in every street for half the $2 billion cost of a downtown rail loop.
She questioned the emphasis on "high-cost rail" instead of walking and cycling. Biking would reduce inequalities because it was healthy and virtually free.
The current system forced many poor families to spend up to 10 per cent of their incomes on petrol.
"What can we buy for $2 billion?" she asked.
"Half the cost of the CBD rail loop could buy you a universal transformation of Auckland streets that would give you a bicycle mode share competing with the most bike-friendly cities in the world."
Dr Macmillan, who bikes from Greenlane to work in Glen Innes, said 70 per cent of Aucklanders lived within a 30-minutes ride of their work.
She said safe bike lanes could be created simply by shifting existing cycle lanes from outside lines of parked cars to behind the parked cars, next to the footpath.
The benefit-to-cost ratio could be as high as 10:1, compared with ratios for the rail loop estimated by the council at between 1.1 and 2.3:1 or by the Government at just 0.4:1.
"We need to question and be careful about these kinds of big projects like the CBD rail loop, and ask questions about whether they are going to work in terms of improving health equity or improving fair access to jobs and education and training and to other health-promoting goods and services," she said.
"I love the idea of the CBD rail loop but we have to think hard about it."
She said bike lanes would help narrow the gap between rich and poor.
The Royal Commission on Auckland Governance found that babies were twice as likely to die within their first year of life in the old Manukau City, where 6.8 died out of every 1000, than in Rodney, where the rate was only 3.4.
The head of the World Health Organisation's Commission on the Social Determinants of Health, Sir Michael Marmot, told the meeting about similar gaps in his home town of London.
As a bicycle commuter, he could ride for half an hour in either direction from his home to areas with a 17-year difference in average lifespan.
"That is absolutely dramatic," he said. "Socio-economic inequalities in health are not a footnote to the problems in health - they are the problems in health."