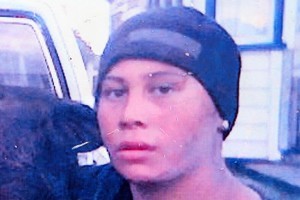 Maori are losing confidence in the police following a decision by the Independent Police Conduct Authority (IPCA) not to recommend any penalties against an officer whose car ran over and killed a 16-year-old boy, Maori Party MP Rahui Katene says.
Rawiri Wilson died after a patrol car driven by Constable Jamie Anderson struck him from behind on State Highway 1, near Ohaeawai, 11km northeast of Kaikohe, on July 25, 2009.
Rawiri was walking on the road with his cousin Gideon Porter, 16, who was injured in the crash, about 11.45pm.
The IPCA found Mr Anderson had no chance of avoiding Rawiri because the headlights on his patrol car were on low beam.
Mr Anderson had also been using his personal mobile phone while driving on duty. It was not established whether Mr Anderson used his mobile phone at the time of the collision or in the seconds before it.
Using his mobile phone while driving, and driving with headlights on low beam, were not unlawful, but they were not the actions of a reasonable and prudent driver, the IPCA said.
Maori Party justice spokeswoman Ms Katene said her heart went out to Rawiri's whanau.
"His life was stolen because someone, who should have known better, decided to pay more attention to texting on his cell phone rather than focusing on the road ahead.
"I think it only fair that the police officer should lose his job and be content that he wasn't the one who lost his life."
Ms Katene said since the IPCA decision, the Maori Party had been inundated with calls from constituents expressing their anger that Rawiri's death was in vain and the authority had favoured the person responsible for his death because he was a police officer.
"I'm extremely disappointed that the officer will not face charges.
"If anyone else killed someone because they were texting when they should have been driving, they would be charged with dangerous driving causing death," Ms Katene said.
Mr Anderson had admitted sending text messages while driving on police business "whenever I feel like it".
The IPCA agreed with the finding of Coroner Garry Evans that Mr Anderson was texting as he drove out of Ohaeawai.
In July 2009 it was not against the law to use a mobile phone while driving. At the time, the use of mobile phones while driving was being widely debated and was actively discouraged by various government agencies, including police.
Mr Anderson would have been aware of an incoming text message on his mobile phone 20 to 30 seconds before the crash. He said that he did not open his phone or read the text message and the IPCA accepted that the available evidence did not establish he was using it immediately prior to impact.
Mr Anderson will not face criminal charges, and is still working for the police.
- NZPA