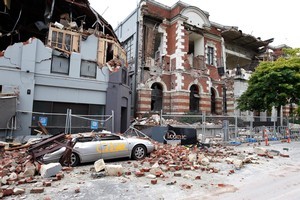 The Christchurch Earthquake Appeal has announced support for five new projects to help get the city back on its feet, including free accommodation for community groups and pop-up shops to kick-start retail in the central city.
Prime Minister John Key has welcomed the announcement, saying it would bring a boost to many Christchurch residents.
The appeal trustees today said details were being finalised on five projects including free temporary accommodation for community organisations, pop-up infrastructure for central city retailers, assistance for Women's Refuge, an arts programme for school pupils, and a mixed-use community facility for children in the badly-hit eastern suburbs.
Final agreements would cover the way the money will be paid, the work to be done, and the accountability of those spending the funds.
The projects come on top of the trust's previous allocation of $3.5 million to restore Christchurch playing fields, and $554,000 to establish recreation hubs at seven site-sharing schools.
More than $90m has been raised or pledged to the appeal since it was set up after the February 22 quake.
Mr Key said people from around the country and the world had dug deep to help Christchurch recover.
"That generosity has given the appeal the opportunity to assist a wide variety of worthy projects which will help make a difference to Christchurch," he said.
"Today's announcement brings a boost to so many Christchurch residents, and reinforces the message that Christchurch is focusing on its future."
- NZPA