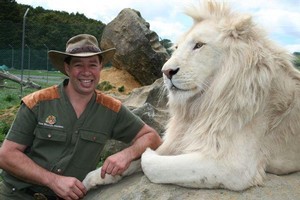 Reports that Lion Man Craig Busch is negotiating to buy back Zion Wildlife Gardens - three years after he was fired from his job at the park - are untrue, his mother Patricia Busch says.
All Mr Busch had to do to regain control of the big cat park was repay money he owed her, Mrs Busch said. She said she became sole director of Zion Wildlife Gardens when she loaned her son's company a substantial amount of money in 2006.
In 2008, Mr Busch was fired from his job at the park, sparking a long, expensive legal fight.
Last month the Employment Relations Authority ordered Mr Busch to pay Zion Wildlife Gardens more than $20,000 for breaching the terms of his employment agreement.
The Sunday Star-Times reported that representatives of Mr Busch were in negotiations with Patricia Busch to buy back the park. Those claims were untrue, Mrs Busch said.
In a letter released to the Northern Advocate yesterday she said: "There are no negotiations with Craig under way with Patricia for Craig to buy the park. To get control back of the park Craig is only required to repay loans and he is then back and Patricia departs."
Mrs Busch said she spoke with her son while he was visiting New Zealand recently. "He told me that he was fine in South Africa and that he had good friends there that he trusted.
"He did not say he was returning to New Zealand or the park," she said.
Mrs Busch said she asked her son if his representatives were negotiating on his behalf with another party. "Craig said he would have to check with his legal people and there has been no confirmation received on this."
Lion man supporter Jill Allbrow, of Tutukaka, said negotiations were going on but she would not say with whom.
She referred the Northern Advocate to a Craig Busch supporters website called "It's Crisis Time".
The website says: "The negotiations that we are undertaking are very much start, stop, start, stop etc." The website talks of winning back the park and encourages supporters to donate money towards the cause.
Mrs Allbrow said she was confused by Mrs Busch's comments and would not confirm if the $3 million target listed on the website was the value of the loan made by Mrs Busch to Zion Wildlife Gardens in 2006.
For more articles from this region, go to Northern Advocate