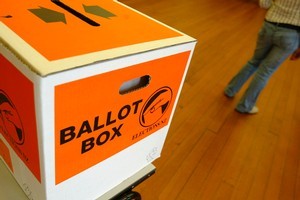 The Mana and Maori Parties are set to go head to head in a battle for Maori electorates in November's general election.
The Maori Party last night rejected an offer for the parties to collaborate and Mana leader Hone Harawira is disappointed but moving on with plans to stand candidates.
When Mr Harawira left the Maori Party this year both sides agreed not to stand in each other's seats, but that deal fell over -- each blaming the other.
They went head-to-head in last month's Te Tai Tokerau by-election, with Mr Harawira winning with 6065 votes to Labour's Kelvin Davis 4948.
Maori Party candidate Solomon Tipene was a distant third on 1087.
Labour took heart from the result and hope to gain from further vote splitting between Mana and Maori.
Mr Harawira said immediately after his win that he wanted to talk about not standing in each other's electorates.
The idea of a deal where the Maori Party encouraged its voters to give Mana their party vote so Mr Harawira could bring more Maori MPs into Parliament with him was raised.
Last night Maori Party president Pem Bird said in a statement the party wouldn't be taking up Mana's proposed deal.
"I'm disappointed, but to tell the truth, I'm not surprised," Mr Harawira said today.
"I asked for a truce when I first left because Maori Party members didn't want us to a fight. Their leaders agreed at first, then turned their back on it by standing against me in the by-election, only to see their 12,000 majority wiped out."
He said he again offered an olive branch "only to have it snatched from my hand by the leaders of the Maori Party and tossed into the dirt a second time".
Mr Harawira said he would start work on selecting candidates.
"I'm going on a national Mana tour over the next few weeks to talk to the members about which seats they think we should be standing in, both Maori and General, and who would be the best candidates."
Mr Bird yesterday said the party's national council hui in Huntly yesterday heard a "strong message" from the its membership that it continue to build its organisation in Te Tai Tokerau.
Mr Bird said the party would not sacrifice the seat for what might be seen as "political opportunism and expediency".
"Basically the message we received loud and clear was 'no deal'," Mr Bird said.
- NZPA