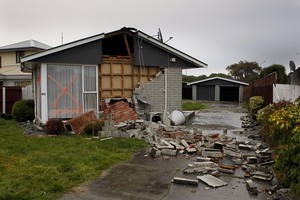 Police are investigating allegations of fraud by contractors working on quake-damaged homes in Canterbury, the Earthquake Commission (EQC) says.
EQC chief executive Ian Simpson said yesterday his staff had contacted police after becoming concerned about the authenticity of some contractors' invoices.
"We are dealing with thousands of invoices. In some cases the information provided by contractors is insufficient, but the charging is genuine," he said.
"However, we are concerned to find some companies are submitting invoices for work that, on investigation, wasn't done, or wasn't done to a high enough standard. We are also getting invoices with hourly rates that are greatly inflated."
He told Newstalk ZB there had also been cases of apprentices charging at a full builders' rate, and of builders charging $200 per hour for their labour.
Mr Simpson said EQC have tried to set a rate of $50 per hour as a fee they believe to be reasonable.
He said EQC may refer cases to the police if they are unable to be resolved.
"That's not the outcome we want through this," he said.
EQC has been criticised for failing to pay contractors and the Amalgamated Workers Union has threatened to take legal action.
The EQC would "not be forced by a campaign in the media to pay invoices that appear suspect without further investigation", Mr Simpson said.
In May more than 300 contractors were found to be owed $7 million and Mr Simpson said $4 million had been paid.
- NZPA, Newstalk ZB