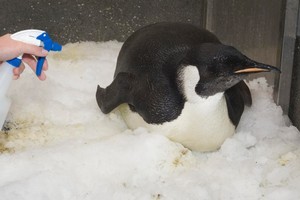 Happy Feet is getting stronger and healthier by the day, gaining more weight thanks to a mighty appetite for salmon.
The country's favourite emperor penguin has been living it up at the Wellington Zoo, where he is being cared for, eating up to 2kg of salmon each day.
He now weighs 23kg and is getting stronger every day, staff say.
Zoo spokeswoman Kate Baker said Happy Feet was much healthier and might be shifted into a saltwater pool soon.
"He's getting stronger and stronger every day," Ms Baker said.
"Actually, when the vet grabs him for medication or something, he's fighting a lot more.
"He's really looking good."
Ms Baker said it was not known when the emperor penguin would be released into the Southern Ocean.
"It really depends on how long it takes for him to gain more weight and become healthier and fit enough to be released into the ocean."
The native of Antarctica, who is believed to have swum more than 3000km to reach New Zealand shores, has undergone multiple procedures to flush out sand, rocks and liquid from his stomach.
Happy Feet is only the second emperor penguin known to have landed here. The first was found in 1967 at Southland's Oreti Beach.