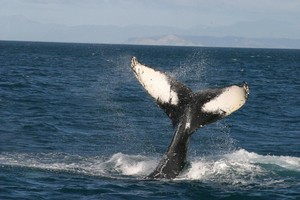 A rescue mission to save a humpback whale entangled in ropes in the Queen Charlotte Sounds was called off as darkness fell tonight.
A specialist team from the Department of Conservation set off from Picton about 3.30pm after a crew of a ferry crossing the Cook Strait mid-morning today saw the juvenile whale, which has caught in rope and craypot buoy for nearly two weeks, and alerted DOC,
DOC spokeswoman Trish Grant told NZPA tonight that a craypot line was cut from the whale this afternoon, but a much older rope could not be removed before darkness fell.
"The rope is quite frayed and it's quite deeply imbedded in its skin which is what happens when they've been entangled for some time."
Tomorrow morning a boat would set out again to find the whale which would hopefully still be in the area, Ms Grant said.
"At this time of year humpbacks are migrating north to the South Pacific breeding ground, so it's making slow progress.
"We are hopeful it wouldn't have moved far overnight and we will find it in the morning."
- NZPA