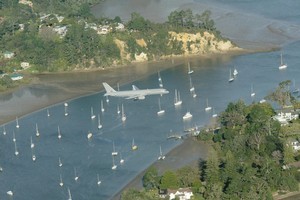 An air force carrier struck by lightning after taking off from Whenuapai Airbase has landed safely.
The RNZAF Boeing 757 was hit by lighting shortly after taking off from the airbase just before 9am.
It circled the airbase waiting for a break in the weather before making its emergency landing.
Fire Service northern communications shift commander Scott Osmond said the plane had touched down safely at about 9:40am.
Emergency services at the airbase were checking it for damage, he said.
Air force spokesman Kavae Tamariki said it did not seem the plane had been damaged by the lightning strike.
- NZ Herald staff