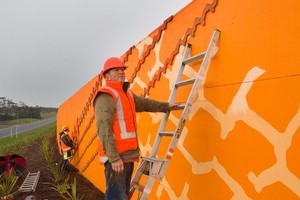 Artist Jeff Thomson has shaped corrugated iron into many cars but now his energy is devoted to car tyre tracks.
Tread patterns left by vehicles in the black sand of Muriwai Beach inspire his latest and most public work - 3D murals on the city's new motorway walls. Instead of his usual material, he is using paint and plywood to give the raised-tread look.
"It's a bit of a departure for me not using corrugated iron," the Helensville artist said.
"But corrugations used in several different patterns and changing direction became confusing on a flat wall. "So I'm doing the woodwork in my studio and using stencils to paint the patterns. I put the plywood over the top so we get different effects."
Thomson's work will show on 600m of the 3km of big orange walls along extensions for the Upper Harbour Bridge Motorway and the Northwestern Motorway.
The Auckland Council has budgeted $70,000 for Moments and $130,000 for Matt and Kate McLean's Clay Carpet projects at Clarks Lane footbridge in Hobsonville.
Orange is the agency's choice of base colour. Resident Peter Wheeler takes issue with it.
"The fluoro-orange pulls your eye off the road towards the fence. It's a colour that grabs attention because it means danger as used on road cones and road workers' jackets."
A spokesman said the agency would not permit a colour considered unsafe.