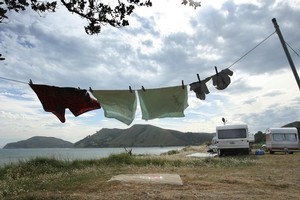 The proposed Freedom Camping Bill is too heavy-handed and threatens to destroy the New Zealand tradition of enjoying the outdoors, Labour's local government spokesman Phil Twyford says.
Labour has withdrawn its initial support of the bill in the wake of select committee submissions from people dismayed at restrictions that might be imposed on local campers while inadequately dealing with problems apparently stemming from international visitors.
"It is like using a sledgehammer to crack a walnut - effectively handing councils the power to issue blanket bans," Mr Twyford said.
The bill will give councils and the Department of Conservation powers to decide where camping is allowed and will set up an infringement regime with offenders facing instant fines of $200 - or up to $10,000 for serious offences like emptying a campervan sewage tank in a rest area.
Mr Twyford said the Government should explore practical approaches, rather than a punitive regime.
Alternatives included phasing out campervans without toilets, issuing fines to people caught dumping human waste, and more public toilets, rubbish bins and waste-disposal facilities.
Some submitters to the select committee said freedom campers should not be punished for the small minority who were irresponsible.
- NZPA