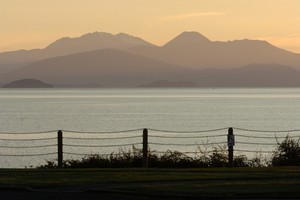 Few people would have been more surprised than GNS Science volcanologist Brad Scott to learn about yesterday's 6.5 magnitude earthquake in Taupo.
The quake, which struck at 3.36pm at a depth of 150km, was reportedly felt as far south as Stewart Island and as far north as Auckland.
However Mr Scott, based in GNS Science's Wairakei Research Centre in Taupo, did not feel a thing.
"We weren't even aware of it until we saw the pagers going off," he said.
"I logged on and thought 'wow, this is big. Oh my God, it's under us. I missed that one.'"
The earthquake was felt more strongly in Wellington than in Taupo, and felt more widely across the South Island than it was in Auckland, despite the city being located much closer to the epicentre.
Mr Scott said it is common for deep earthquakes under the centre of the North Island to be felt along the east coast and not felt inland.
Yesterday's quake occurred on the subducting Pacific Plate, which is being pushed under the Australian Plate at a rate of 40-45mm a year, the same rate finger nails grow.
"The earthquake has occurred in the middle of the plate, and what happens is the energy preferentially flows back up the plate, rather than being transferred out of that plate into the country above it. Hence the energy basically gets fired back up to the east coast.
"That's why it is fired along the coast and not directly above it. And also in that 150km above it you've got the soft gooey [material] under the volcanic zone. That just absorbs energy like a big sponge."
Large deep quakes are generally felt widely as the seismic energy has plenty of time to spread out as it travels to the surface, although Mr Scott said the depth does not make "a lot" of difference to how widely it is felt.
Mr Scott said there was a relationship between yesterday's Taupo quake, the Canterbury earthquake and its aftershocks and other earthquakes around the country, such as the series of jolts off the Hawkes Bay Coast in recent days, but only when you look at the big picture.
"An earthquake occurs when a rock breaks and the rocks break when they get bent. It's like picking up a piece of four by two (timber) and bending it. It's elastic, and you can bend that piece of timber but it will start splintering and ultimately it will break. So the small earthquakes are that piece of timber splintering. The Christchurch earthquakes are when it finally breaks.
"So imagine bending that piece of timber is like bending the earth's crust and over a period of years, decades, centuries, thousands of years you bend it to a point that is snaps.
"There is that broad relationship."