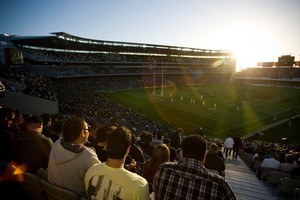 The premier Rugby World Cup seats around the country - including the best in Eden Park's expensive new south stands - are being left the most empty as fans avoid high-priced tickets during the tournament's month-long pool play.
Seats remain unfilled for all pool matches 66 days before opening night, as knockout round tickets go on sale at 9am today.
World Cup spokesman Mike Jaspers said the tournament's ticketing website experienced a surge of traffic soon after pool match ticket sales began yesterday.
"We had a strong start in the morning, which has continued as the rest of the world is waking up," he said.
At Eden Park, tickets to the temporary stands - which are being erected half a field-length from the try lines - have been snapped up but the best areas of the new six-storey south stands are the least full.
Of four ticketing categories at the stadium, Category A in the stands was the only one with seats available for all five pool matches.
Last night the only tickets left for the New Zealand-France fixture were for seats in that area, though it was expected they would be snapped up overnight.
The south stands were built along the sidelines as the main upgrade in Eden Park's $256 million revamp, and tickets for the area are the highest-priced at $123 to $460 during pool play.
The trend was repeated at North Harbour Stadium, Waikato Stadium, McLean Park in Napier, Rotorua Stadium, Stadium Taranaki, Wellington Stadium and Forsyth Barr Stadium in Dunedin. In all cases, the venues' highest-priced seats were available but some cheaper areas had been fully booked.
Nonetheless, tickets priced $41 or less remained available yesterday at all stadiums except Eden Park and Waikato Stadium.
Overall, more than three-quarters of seating areas at pool matches had vacancies: 118 areas of 153.
Some fans took to Twitter to express their frustration as the cheap seats to popular matches were booked out.
Kolone Bob Vaai said: "Been trying to buy RWC tickets ... damnit all the cheap seats are GONE".
Becky Kuek said: "$123+ for s*** tickets at the RWC? ... I think not. Sky Sport and my sofa it is".
Comedian David Fane joked: "Just bought my RWC tickets, gonna be broke for the rest of the year now".
Mr Jaspers said the site handled the increased traffic without issue.
But some people had tried to cheat the system by setting up multiple accounts and buying more tickets than they were allowed.
This resulted in the New Zealand-France match being listed as "exhausted" near midday, only to become available again once the fraudulently bought tickets were returned.
Tournament organisers announced last week they had sold 900,000 of 1.6 million tickets - or 56 per cent - to reach three-quarters of their sales target of $268 million.