Members of the public can contact Counties Manukau Police on (09) 261 1300 or Crimestoppers on 0800 555 111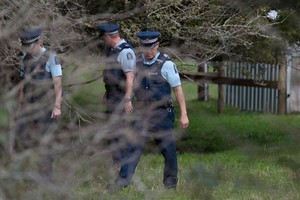 A post-mortem examination on a newborn baby has failed to show whether she was dead when dumped in a South Auckland stream.
The examination completed yesterday morning showed the girl, found in a culvert on Saturday night on Burnside Rd, a rural area about 9km east of Papakura, was of at least 35 weeks gestation.
The autopsy could not reveal how and when the baby died and police are awaiting the results of tests by a paediatric pathologist that could take up to 10 days.
Police confirmed yesterday that they had spoken to the baby's 21-year-old mother, who gave birth to the little girl last Wednesday.
The Herald understands she is a staff member of champion harness racer Tony Herlihy and had been staying at a cottage he owns on the front of his Burnside Rd property about 400 metres from the culvert. It houses up to six people.
She has not been charged but police are understood to be keeping an open mind.
"We have interviewed the mother and no charges have been laid at this stage," said Detective Senior Sergeant Darrell Harpur.
Mr Harpur said it was understood that the baby was born at the cottage.
Yesterday forensic police teams and a scene guard left the cottage, where inquiry teams had focused their investigation.
Police would not say what they were looking for at the property although when the Herald visited inquiries appeared to be centred on the rear of the house.
Mr Herlihy confirmed to One News the woman had been working for him for about eight months but he did not know she was pregnant.
"She was living there, she was obviously pregnant I suppose. I'm not too sure, the police have handled everything there. We didn't know anything about this," he said.
He said she was a good worker and had a background in racing.
"It's just very upsetting and a shock for everybody," he said.
A local man spoken to by the Herald said the woman's pregnancy was common knowledge around the area.
He said he often saw the woman at harness events since she started working for the Herlihys last year.
Counties Manukau Police are appealing for information from anybody who may have seen anything suspicious while driving along Burnside Rd between 4:30 and 7 last Wednesday evening.
It remains unclear what relationship if any the man who found the baby's body had with any of the people living at the cottage on the Herlihy property.