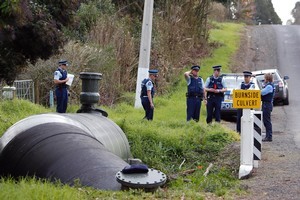 A dead baby found in a stream south of Auckland was born to a 21-year-old woman three days before the body was located, police say.
The baby was found in a red plastic bag in a stream near the home of the country's most successful harness racer, Tony Herlihy at Burnside Rd, Ardmore on Saturday night.
A post-mortem examination has found the baby was a girl of at least 35 weeks gestation.
Detective Senior Sergeant Darrell Harpur said the baby was born at the Burnside Rd address on Wednesday.
Police had spoken to her 21-year-old mother but no charges had been laid over the death, he said.
"The circumstances surrounding the death of the baby remain unclear and we await the results of pathology tests and ongoing enquiries."
Mr Herlihy told the Herald on Sunday he did not know anything about the baby.
His wife Suzanne Herlihy was at home and said the discovery was not directly linked to her family.
"I do know but I'm not saying. It is a police investigation."
Inspector Bruce Burd said the body had been discovered by someone who had seen the plastic bag in the creek.
"He found what he believed to be a baby. We've now confirmed this."
The man who found the body was being interviewed at Papakura police station last night.
Burd said the main investigation was focused on Burnside Culvert. Asked if it was linked to the other crime scene at Herlihy's home, he said: "We need to determine the facts and see what the connections are."
Herlihy rose to harness racing mastery after almost a decade working from the Ardmore property.
He moved there with brother-in-law Mark Purdon in 1990. Herlihy has driven more than 3000 horses to victory, more than any other New Zealand trainer.
- HERALD ONLINE