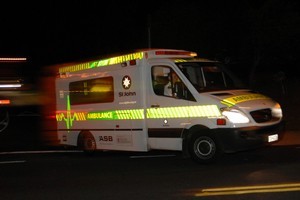 A young woman critically injured when struck by a car while walking home was last night in a serious but stable condition in Auckland City Hospital.
She was transferred yesterday from Middlemore Hospital, where she was taken late on Saturday night after she was hit while walking home from a 21st birthday party in Alfriston, South Auckland.
The incident is among a spate of car and road accidents in the past few days.
Around 8.30 last night, a person was killed when a car went through a fence into a paddock and rolled on Birchs Rd, south of Prebbleton in central Canterbury.
A woman in her 20s who was in the car was last night in a serious condition in Christchurch Hospital with head and torso injuries.
Earlier yesterday, about 3.15pm, a Christchurch woman was killed when the car she was in hit a building and caught fire in Main South Rd, Templeton.
The car was travelling north when it left the road and hit a fence before smashing into a small shed, police said.
In the early hours of Saturday, a 21-year-old man from Taranaki died when the car he was in veered off the road and struck a concrete retaining wall near the intersection of Frankley and Barclay Rds in Ferndale, New Plymouth.
Police said the man was the only person in the car, which was travelling well above the 50km/h speed limit. Alcohol was believed to be a factor, said Sergeant Grant Sawtell.
On the same day, an 18-year-old youth suffered serious head injuries in a suspected hit-and-run in Palm Beach Boulevard at Papamoa, near Tauranga.
Police are trying to discover whether he was hit by a car or fell to the ground.
Last night, 13-year-old Shaun Malthus, who was hit by a vehicle on Thursday, was still in a coma in Waikato Hospital.
The boy is believed to have stepped out into the road while following a friend as they walked to school.
On Thursday night, a 52-year-old Auckland man was killed when the car he was in rolled on the Southern Motorway just before 9pm.
Two other vehicles were involved and three people - a middle-aged and an elderly woman and a 6-month-old boy - were taken to Auckland City Hospital and the Starship children's hospital for treatment.
The accident happened near the Khyber Pass Rd on-ramp and traffic backed up as police closed off part of the motorway while emergency services were at the scene.
Auckland District Health Board spokesman Matt Rogers said last night that the baby had been discharged.
The two women were still in hospital, both in a stable condition.
ACCIDENT TOLL
Thursday morning: 13-year-old Shaun Malthus struck by a car in Hamilton.
Thursday night: 52-year-old man killed in three-car crash on the Southern Motorway. Two women and a 6-month-old boy admitted to hospital.
Saturday, 1am: 21-year-old man killed in New Plymouth car accident.
Saturday morning: 18-year-old found with head injuries in Papamoa. Police investigating possible hit-and-run.
Saturday, 10pm: Woman in her 20s hit by a car while walking home in Alfriston.
Yesterday afternoon: Christchurch woman dies when her car hits a building.
Last night: Person dies when a car rolls south of Prebbleton in Canterbury. A woman in her 20s is injured.
- additional reporting by NZPA