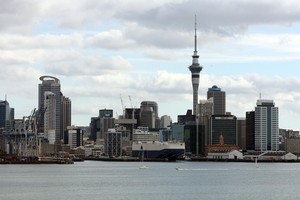 The earthquake which shook Auckland tonight has been confirmed as a magnitude 2.9 shake but shallow at just 9km deep and centred in east Auckland just off Mission Bay.
Geonet, which monitors seismic activity around New Zealand, released the data shortly after the quake hit at 9.09pm.
It followed a 4.7 magnitude earthquake 90km west of Te Anau and just 5km deep which hit shortly before 6pm.
There are no immediate reports of damage in the shake, but on Internet site Twitter, dozens reported feeling the quake.
"Whoa. Just felt a little earthquake in Auckland," wrote Bernard Hickey.
"Our house just shook once - thought someone had driven into the garage door," said Amanda Hosking in an email to nzherald.
It "felt like a gentle rumble of a truck passing" wrote Alistair Helm.
"Very brief duration, but noticeable jolt and brief vibration, freaked out my 10-year-old daughter," Janetta Mackay of Takapuna wrote.
"Didn't feel anything but my kids stomp round like elephants so didn't feel anything different," tweeted Penina Momoisea.
The quake was reported by people in the Auckland suburbs of Glendowie, Mt Eden, Devonport, Grey Lynn and the central city.
"While the earthquake was tiny compared to the aftershocks in Christchurch, it's the rareness of earthquakes in Auckland that will make it a headline story," wrote Philip Duncan of weatherwatch.co.nz.
Weatherwatch also includes more comments on the earthquake.

The largest earthquake known to have affected the Auckland region was a magnitude 6 jolt centred near the mouth of the Waikato River on June 24, 1891.
It brought down a chimney in Auckland's Onehunga district, but otherwise caused only minor damage to fragile items and plasterwork.
- Herald Online, NZPA