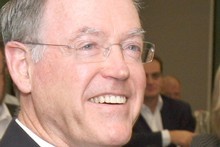 Act Party Leader Don Brash has used Nazi analogies to attack local body bureaucrats.
In a speech today to the Federated Farmers annual conference, Dr Brash has advocated for further reforms of the Resource Management Act.
Dr Brash says he is constantly regaled with horror stories of the "little Hitlers" who far too often seem to populate the lower levels of local and regional government.
He says says they throw their weight around and sometimes refuse to grant RMA consents on flimsy excuses.
The ACT leader has also attacked RMA rules that require consultation with Maori, saying communities should be consulted equally without racial preference.
Dr Brash also reiterated ACT's desire to scrap the Emissions Trading Scheme and challenged the science behind global warming.
He says even if a case can be made that human activity is behind an increase in global temperatures, it is not obvious that this is necessarily a bad thing for the planet.
He says human societies thrive in both Singapore and in Finland, even though average temperatures in both places could hardly be more different.
- NEWSTALK ZB