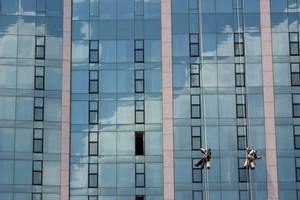 An abseiling window cleaner was seriously injured today after a falling at least five stories in central Wellington.
The man fell from Mayfair House on The Terrace about midday.
He was taken to Wellington Hospital in a serious but stable condition, Wellington Free Ambulance team manager Kate Worthington told NZPA.
The man, in his 20s or 30s, had been harnessed onto the back of a 10-12 storey building.
"At some point during his way down the building, around the sixth floor from the ground level, the harness has failed and he has subsequently fallen approximately five to six stories from there."
He hit a parked car, which slowed him down before he hit the concrete, Mrs Worthington said.
He had lower leg and lower back injuries, which appeared to be from where he struck the car, she said.
The man remained fully conscious and was talking after the fall.
He was "quite upset, as was his colleague who was with him at the time", she said.
The car sustained minor damage to its bonnet.
The Department of Labour was investigating what happened and why, a spokesman said.
- NZPA