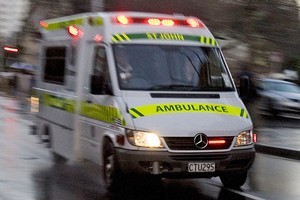 A man's body has been found in road works in the Hamilton suburb of Chartwell this morning.
Detective Senior Sergeant Nigel Keall of the Hamilton CIB said officers were called to the scene between Carrs and Tramway roads about 7.20am.
"Workers arriving for work discovered the body of a man lying near a maroon, four door Mitsubishi Galant," he said.
"At this stage we are yet to identify the victim and are currently working to establish how he came to be in the construction zone. We are appealing for sightings of the maroon car in the area overnight or of anything else out of place in the area."
Mr Keall said the man's death would be treated as suspicious until such time as information or forensic analysis indicated otherwise.
Police spokesman Inspector Kerry Watson said Hamilton police and detectives are at the scene and no details about the deceased are available at this stage.
Anyone with any information on how the man and the car came to be in the construction zone is asked to contact the enquiry team at the Hamilton Central Police Station on 07 858 6200, or alternatively information can be left anonymously on the Crimestoppers crimeline on 0800 555111.
Student critical after hit by car
Meanwhile a secondary school student is fighting for his life after being hit by a car in Hamilton this morning.
Waikato district road policy manager Inspector Leo Tooman said the Serious Crash Unit were at the scene of the incident on Ruakura Rd, near the entrance to Innovation Park, establishing what had happened.
"Initial indications are the student, who appears aged around 13, has stepped out into the path of an eastbound car about 8.15am," Mr Tooman said.
"The driver of the car has locked up the vehicle in his attempts to avoid striking the boy however the driver was unable to avoid hitting him and the boy has suffered serious to critical injuries."
Mr Tooman said six people had died on Hamilton streets so far this year, two of them pedestrians."In the earlier incidents two elderly ladies died in separate incidents, now we have a young man fighting for his life.
"We urge people to think that mistakes can be permanent, consider going the extra distance to the nearest pedestrian crossing or controlled intersection, or resist the urge to run across in front of oncoming traffic, a moment's patience could prevent a life time's grief."
- NZ HERALD STAFF