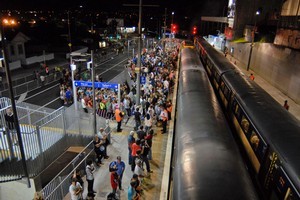 Workers are urged to go home early and schools to have a "teacher only" day as Auckland prepares for traffic chaos on Rugby World Cup kick-off day.
On September 9, the All Blacks will play Tonga at Eden Park in the first match after the opening ceremony.
Celebrations will also take place at the Viaduct and at "Party Central" on Queens Wharf.
Auckland Transport chief executive David Warburton said yesterday commuters not wanting to be caught in cup-related celebrations should try to leave the central city before 3.30pm - four hours before the ceremony starts.
"Our message will be to either be part of it or get out of town early," he said. "Trying to get home at the normal time will be difficult."
Rugby tournament transport director Bruce Barnard said Aucklanders could help ease road congestion by working from home.
Road closures will begin around Eden Park from 4.30pm.
Trains are to undergo heavy maintenance and extra drivers and signals technicians will be called in from other areas to deal with more than 15,000 rugby fans going by rail to Eden Park.
Quay St will be closed around Queens Wharf for 30 hours from 10pm on September 8 and possibly at other times during the six-week rugby tournament if the fan zone there reaches capacity.
Adding to the pressure on kick-off day will be rolling street closures as motorcades carry Pacific Forum leaders, due in Auckland for their annual summit, to Eden Park.
Schools are being asked to consider making September 9 a "teacher-only" day to get children off the streets.
Mr Barnard said Kowhai Intermediate near Eden Park had planned for this, although the Ministry of Education was leaving it to the discretion of each school.
With such heavy reliance on rail to carry fans to Eden Park, Auckland Transport chairman Mark Ford said the biggest risk on the day would be train drivers calling in sick.
Chief operating officer Fergus Gammie said KiwiRail and Veolia Transport would bring in spare drivers from outside Auckland.

Extra buses will be on standby in case the demand for trains exceeds expectations.
Buses and trains to and from Eden Park will be free for ticket-holders, and Auckland Transport will produce a $15 daily "A-Pass" travel card for visitors and their hosts, for use on buses, trains and most ferries, with entertainment discounts thrown in.

Today, RWC Minister Murray McCully and Auckland Mayor Len Brown will announce plans for Queens Wharf during the tournament.
BIG DAY, BIG PLANS
What will happen:
* Quay St will be closed around Queens Wharf for 30 hours from 10pm on Sept 8.
* Road closures will begin around Eden Park at 4.30pm on Sept 9.
* Opening ceremony will begin at 7.30pm on Sept 9.
What authorities advise:
* Schools to run 'teacher-only' days, or close early.
* Workers in CBD should either leave by 3.30pm or get with the party - travelling home in normal rush hour is not advised.
* Work from home.
Public transport:
* Extra buses on standby.
* More train drivers being brought in from outside Auckland.