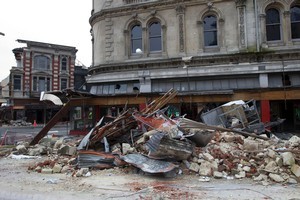 Another 72 buildings have been added to Canterbury Earthquake Recovery Authority's list of buildings identified as needing full or partial demolition, or safety work to prop them up.
The full list of about 1000 buildings in earth-quake-ravaged Christchurch is available at www.cera.govt.nz/demolitions.
The authority has been holding a series of community meetings for people from the residential red zone, which had provided "extremely valuable feedback and insight", Cera chief executive Roger Sutton said.
Cera staff have attended 21 meetings in Christchurch's worst affected suburbs and Kaiapoi, following the Government's land announcements last week.
"We wanted immediate feedback from people and to hear their issues and concerns and that's exactly what happened.
"We had about 3000 people turn up and I'm immensely grateful for their patience and tenacity in the midst of some incredibly tough times," Mr Sutton said.
"I had to explain we didn't have all the answers at this stage. But without a doubt, we've got a much clearer understanding of the issues and questions and will working hard to look at them in the coming weeks."
Mr Sutton said representatives at the meetings from insurance companies and the Earthquake Commission also took away issues for consideration.
While Cera continued to work with red zone residents, work was also progressing for the 10,000 residents in the orange zone and they would be hearing more in the near future, he said.
- NZPA