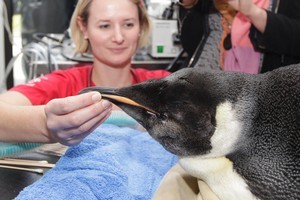 Animal experts will meet today to discuss the future of Happy Feet, but at least one penguin expert believes releasing it into the ocean is the best option.
The Department of Conservation, experts from Massey University, Te Papa and staff from the Wellington Zoo - where the penguin is being cared for - will meet this morning.
Zoo spokeswoman Kate Baker said: "Basically they will start talking about what the options are, if the penguin does recover."
However,
Massey University associate professor John Crockrem of the Institute of Veterinary, Animal and Biomedical Sciences said --once Happy Feet had fully recovered putting it back into its own environment quickly was best.
"We would be releasing it into its own environment and a satellite tag would be used to track its progress," Dr Crockrem said.
"It would be returning to its natural life with the minimum of stress."
He said ideas such as taking the bird back to Antarctica were not suitable
because of difficulties of finding the home colony,
and the penguin's stress levels, given the amount of time it would take to get back to Antarctica.
Meanwhile, Happy Feet was said to be doing well following a three-hour endoscopy yesterday.
"He's looking bright," Ms Baker said.
"He's up and moving a bit more than he was, looking quite good - but not quite out of the woods yet."