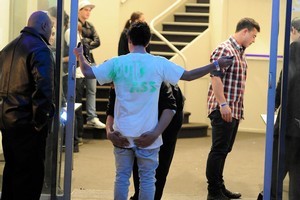 More than 200 teens from Auckland's well-to-do eastern suburbs arrived in busloads for a professionally run after-ball party early today, despite schools' attempts to squash such functions.
Police and an ambulance were waiting as students, some from Glendowie College and dressed in their ball best, spilled out of three buses in Ellerslie at 2am.
Security staff confiscated bags of beers from the buses as the teenagers swarmed into Club 519.
Women, thought to be dancers from an entertainment company, had already been ushered inside to provide the atmosphere.
One Ellerslie girl was brought out on her father's shoulder only minutes after the function began, grossly inebriated and with a St John's ambulance officer in attendance. She had "taken something else," her father told the paramedic.
Speaking before the party, after-ball organiser Cade Pellett of Afterglo Events said he had seen people getting caught with drugs at one of his events.
"A few weeks ago a partner of a student was removed for attempting to sell more than a dozen ecstasy tablets."
Eden Security staff patted down the students as they entered. Drug boxes were used for the first time at the after-ball last night. "Anyone caught with drugs will have them locked in a box," Pellett said. "Police want us to take down the person's name and number and remove them from the venue."
It was frustrating that some principals thought only about the negative aspects of after-balls, Pellett added. "People need to know first hand what it's like. After-balls will be organised regardless and we're doing a good service."
Diocesan School for Girls' ball was held at the Ellerslie Convention Centre last night. The school banned after-balls and sent a letter to parents saying pre-balls had to be registered at the school, but some girls boasted on Facebook that they were planning to attend the Glendowie College after-ball. It is not clear how many, if any, did so.
Before the balls, Diocesan ball-goers were seen drinking Heineken beers at a large pre-ball, hosted at a Remuera mansion by Scott and Debbie Burridge. Scott said alcohol-free wine and low-alcohol beer were also being served to party-goers.