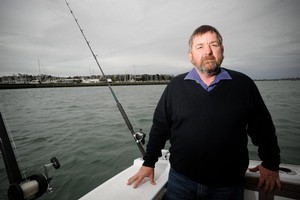 Hauraki Gulf has been described as the jewel in the crown of the Queen City. But a report has revealed New Zealand's favourite waterway is in bad shape.
A draft report will be presented to Auckland Council tomorrow, outlining serious concerns about the state of the gulf.
It says further resources will be lost unless bold steps are taken to address problems blighting the gulf. Lobster stock is depleted and not rebuilding, snapper stock is depleted but rebuilding and tarakihi and trevally are being overfished.
The Firth of Thames is enriched with nitrogen, with 90 per cent of it coming from dairy cow discharge in the Waihou and Piako Rivers, and there is sediment contamination in parts of the gulf with measurable impact on the health of seabeds.
These, along with a large number of other concerns, have environmentalists worried. Forest and Bird marine advocate Karen Baird said the situation was "pretty dire".
She said trawling was killing off many rare birds as well as damaging the ocean, and commercial fishing should be excluded from the gulf.
"Is the Auckland Council going to stand up and take notice?"
The report's author, Hauraki Gulf manager Tim Higham, declined to comment until after tomorrow's meeting.
Independent marine biologist Dr Roger Grace said the huge amount of recreational fishing in Auckland had reduced the fish stocks in the gulf.
He said the controls on recreational fishing were inadequate, and overfishing had led to the decline in kelp on the gulf's shallow reefs.
Out walking round Half Moon Bay, resident Ingrid Collins said she wouldn't swim in the bay's water. "Seeing what I can see," she said, "it's sad they can't do anything about it."
Recreational fisherman Clive Clifford blamed commercial fishers, saying he'd like to see them pushed further out to sea. "I'm disgusted about people fishing in spawning season - every man and his dog go out," he said. "It's not polluted, we've just got so much silt in the water."
Some of those whose lifestyles or livelihoods depend on the condition of the gulf are adamant that it remains a beautiful waterway.
Lance Pattullo, the president of the Hauraki Gulf Sportsfishing Club, said the gulf had been fishing very well lately. "This summer had been the best snapper fishing for many, many years."
And waterfront property specialist Jim Mays said there was so much demand for waterfront property, the poor state of the gulf would not impact on property demand or prices.
The report said trawling caused substantial reductions in species and habitat diversity.
It warned that it was inevitable that further loss of the gulf's natural assets would occur unless bold, sustained and innovative steps were taken to halt environmental degradation.
It said a new management response was needed, including catchment management, managing fishing activity and research.
- Additional reporting: Taylor Mosen