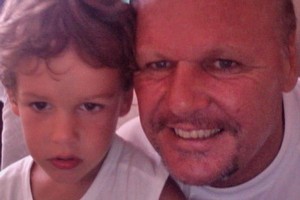 After four years and more than $250,000, a Kiwi father whose young son was abducted by his mother is hoping his nightmare could soon be over.
Bruce Laybourn has dedicated his life to getting back his son, Dylan, after he was abducted by his Turkish-born mother, Gulsen Nil Laybourn, in 2007.
The Family Court issued a ruling ordering Dylan's return in June last year - and the Turkish Family Court is to rule on the dispute this week.
Laybourn, an Auckland magazine publisher, said: "It's at a crucial stage. It's just so, so delicate."
Dylan was born in Auckland in January, 2007. Soon after, Nil's Kurdish mother and sister came from Turkey and stayed in the couple's Newmarket home for four months. They took Dylan back to Turkey and broke off contact with Laybourn.
Despite the Turkish court granting Laybourn care of Dylan for February and August each year, Dylan was hidden from him in August 2008 and again in August 2009.
In 2008, former prime minister Helen Clark wrote to her Turkish counterpart asking for help. Laybourn has since re-established contact with his wife and now spends every February and August in Turkey visiting Dylan.
He speaks to Dylan every Sunday on Skype and says his son is now fluent in English and has learned the haka.
"His mum is a good mum, he is healthy and well fed and taken care of," said Laybourn.
"But he tells anyone who listens he is from New Zealand and he wants to go home.
"I'm not trying to separate him from his mum. She lived in New Zealand for eight years, she could quite easily have a good lifestyle here."
Laybourn said he would await the outcome of the hearing before travelling to Turkey. He expected the hearing could be subject to an appeal.
"The Turkish court is taking it very seriously," he said. "The process moves very slowly ... I have got to work at their speed."
The drawn-out dispute has hit the front pages of Turkey's newspapers but Laybourn said he had seen no hostility from Turkish people during his twice-yearly trips to see his son.
"They can clearly see that I love my son and miss him dreadfully."
Dylan was abducted on the same day that British girl Madeleine McCann went missing. Since then, two of his grandparents have died.
"They desperately wanted to see Dylan again."