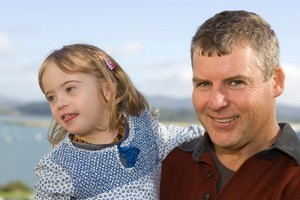 A group of New Zealand parents intending to lay charges in the International Criminal Court in The Hague says the Government is guilty of social engineering.
The group says NZ's genetic-screening programme condones selective breeding and aims to prevent the birth of children with Down syndrome.
"It devalues the lives of our children," said Mike Sullivan, spokesman for the group and father of a 3-year-old girl with Down syndrome.
"I would never accept my child is less human than anyone else's."
He said the Government was endorsing a state-encouraged pregnancy-termination regime, introduced last year, to the tune of $27 million.
Ministry of Health documents state the desired outcome of the programme would be a reduction in Down syndrome births, Mr Sullivan said.
Documents obtained under the Official Information Act suggest 90 per cent of pregnancies showing Down syndrome might now be terminated in New Zealand, leaving about 62 babies born with Down syndrome each year.
Ministry chief adviser Pat Tuohy said antenatal screening for Down syndrome and other conditions had been available in New Zealand since 1968.
"The improved screening test enables women, and their families and whanau, to have information about their current pregnancy that enables them to make an informed choice about whether to proceed to a diagnostic test [amniocentesis] or not," Dr Tuohy said.
"The informed consent process includes discussion of the implications, potential harms and benefits of screening or not."
The Ministry of Health was aware of Mr Sullivan's claims and disagreed with his position on the purpose of the screening, Dr Tuohy said.
New Zealand Down Syndrome Association executive officer Zandra Vaccarino said Mr Sullivan's group did not represent the association and some of them, including Mr Sullivan, were not members.
The association supported prenatal testing provided it also offered appropriate support and up-to-date information to people considering having it, she said.
"Our mission statement also states people should not be pressured into having prenatal testing for Down syndrome," Ms Vaccarino said.
- APN