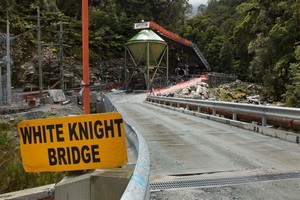 A union representing miners has called for immediate action to improve mine safety in the wake of Prime Minister John Key's admission the Pike River mine would not be approved in Australia.
Mr Key yesterday told The Australian Pike River, which was a single-entry uphill mine, would not have been constructed in Australia because its design would have been illegal.
Engineering, Printing and Manufacturing Union (EPMU) national secretary Andrew Little is urging the Government not to wait until the Royal Commission of Inquiry on Pike River to act.
He told Newstalk ZB the mine could not have been built in Australia.
"You've only got to do a rough and ready comparison with Australian mining regulations to know that we do things here that simply wouldn't be tolerated in Australia.
"We don't want another repeat, we don't want anybody else being put at risk."
Mr Little says we have plenty of international experts to help improve safety.
But Mr Key says there's a difference between construction standards and safety standards.
"From a construction perspective, that mine would not be consented in Australia and was consented in New Zealand," he says. "From a safety standard perspective that's a matter for the Royal Commission to tell us whether they think there are proposed changes or whether there's a necessary need for changes in safety standards."
He says the Government can't give a full response on mining safety until after the Royal Commission into the explosions at the mine is complete, but he says we do have to ask the question about safety standards.
Labour leader Phil Goff is accusing the Prime Minister of doing a major about face on the Pike River disaster.
He says it's a sudden change in position given a month ago the Prime Minister criticised a union representative for questioning safety at the Pike River mine.
"It looks very careless, he's been telling everybody else 'no comment about mine safety ahead of the Royal Commission', and then in Australia he does absolutely the opposite."
Meanwhile, the Government has given a hint that it may step in to make a condition that any sale of the Pike River Mine could be dependent on the 29 bodies being recovered.
The Australian Miners' Union is insisting on a guarantee that the bodies are recovered before the mine's sold.
John Key understands their concern but says the mine obviously has to be safe for that to happen.
But he says there are options for the Government to consider.
"It may require a transfer of licence and under the Crown Minerals Act that may give the Government some ability to alter that or put some conditions on that," he said.
-Newstalk ZB