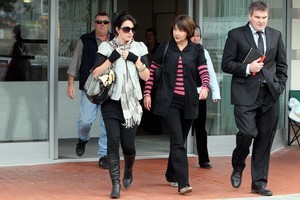 Hastings woman Diane Bullock has hit out at the man who sent her a "vexatious" letter less than two months after her son-in-law Scott Guy was murdered.
The letter writer, Richard Bradley Johnson, 41, of Hastings, was ordered to pay $1500 in emotional harm reparation when he appeared in Napier District Court.
This followed an earlier defended hearing where he denied the charge, yet admitted writing and sending the letter last September.
The letter read: "Mrs Bullock, oh how sad that such a tragedy has beset your family. How awful for you and your daughter. But you are such a cold-hearted bitch... I doubt this incident has had much effect on you anyway.
"What goes around comes around."
Mrs Bullock, with whom Johnson had once worked in a Hastings distribution centre, was having lunch with her daughter - Scott Guy's widow, Kylee Guy - when she opened the computer-generated letter sent to a publicised address for messages of sympathy to the family. It was written partly in "horror" style font, where the letters appeared to be dripping blood.
Following Johnson's sentencing, Mrs Bullock said she was "deeply saddened" at receiving the letter.
"I couldn't understand how he could harbour such unjustified hatred and malice towards me."
Mrs Bullock said to send the letter during the murder investigation of her "cherished" son-in-law "almost defied belief". "My family were, and still are, living the nightmare ... I feel Rick's actions were cowardly, despicable and unforgivable as it only caused considerable more concern and worries to the family as well as diverting valuable police time on an extremely important murder investigation.
"Rick's actions consequently will neither be forgotten nor forgiven by myself, family and friends."
The man accused of murdering Scott Guy, his brother-in-law Ewen MacDonald, 30, maintains his innocence and plans to defend the charge.
APN