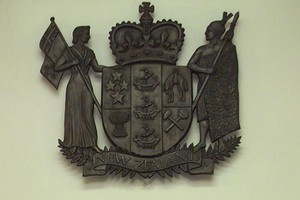 A man was beaten up and forced into a cramped kitchen sink cupboard, bundled into a chest freezer, and shut in a wardrobe during a 17-hour kidnap ordeal, a court was told today.
Crown prosecutor Amanda Gordon told a Rotorua District Court jury they would hear how Benjamin Sweeney had a pillowcase pulled over his head and was assaulted several times, leaving him cut, battered and bruised.
On trial are Michael Russell John Barker, 30, drainlayer, and Thomas Hunuhunu, 40, unemployed.
Barker has pleaded not guilty to aggravated robbery, kidnapping and injuring with intent while Hunuhunu has denied two charges each of kidnapping and injuring with intent.
Mrs Gordon said they would hear Hunuhunu being referred to as the "pres", which his alleged victim, Mr Sweeney, took to mean he was president of the Black Power gang.
Mrs Gordon said it was believed drugs had a large part to play in the attack on Mr Sweeney which was generated by the misconception he was involved with the Headhunters gang and was a "nark".
Before the trial began Tane Mokotupu, 37, forestry worker, pleaded guilty to intentionally injuring Mr Sweeney, while Blaise Smith, 34, unemployed, pleaded guilty to kidnapping.
Judge David McKegg remanded them in custody for sentencing, provisionally on Thursday.
Mrs Gordon said a fifth man, Jimmy Wells, had already been dealt with by the courts for his part in the events of May 28-29, 2010, at a Rotorua flat and elsewhere in the city.
She told the jury Barker accepted responsibility for his part in the kidnapping which involved Mr Sweeney being squeezed into the sink cupboard and put in the freezer, as well as injuring him during the first 17 hours he was detained.
But he denied being involved in Mr Sweeney being forced into a wardrobe.
The Crown's opening address is continuing.
- NZPA