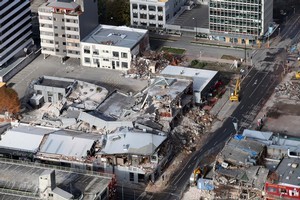 Plans for rebuilding Christchurch's central city have not been delayed by Monday's major aftershocks, Mayor Bob Parker says.
The city was on Monday shaken by quakes measuring 5.7 and 6.3 respectively and causing extensive damage.
Next Monday remained the cut off for receiving ideas and a draft plan would be released for public consultation in August, Mr Parker said.
"Both the Christchurch City Council and Central Government are 100 per cent committed to the rebuild of this city. While the aftershocks on Monday were a blow to many of our spirits, the focus is still on rebuilding and looking forward to a stronger, more vibrant city."
The council had received 78,000 ideas from people including professionals, community groups and schools, Mr Parker said.
The council was also running a 48-hour design challenge at Lincoln University on July 2 and 3.
Twenty teams of seven, including one design student, would be tasked with designing the look, functionality and use of a specific part of the central city.
Mr Parker said the weekend was aimed at stimulating discussion and ideas about the central city plan amongst design professionals.
"This is a great way for us to get input from people who have experience with city design, and then feed what they come up with through to council staff developing the central city plan."
The Green Party is hosting a public forum on rebuilding Christchurch on Sunday afternoon in Lyttelton.
"We have a unique opportunity to develop a strategic vision for a new city based on 21st century values and technology," earthquake recovery spokesman MP Kennedy Graham said.
"In the rebuilding of the city, it is vital that the people of the city, are properly engaged."
Meanwhile, the Cathedral of the Blessed Sacrament in central Christchurch sustained further damage in the Monday's earthquakes and the rear part of the building will need to be demolished, cathedral management board chairman Lance Ryan said.
Work on the main dome of the cathedral would to begin on Monday, but the additional damage had further weakened the building's integrity and it could not be removed in one piece as had been planned, he said.
The dome and the supporting structure would instead be removed piece-by-piece, which would be safer but take longer, Mr Ryan said.
The work was expected to take about six weeks, weather and further aftershocks permitting, he said.
Engineers were assessing if other parts of the building needed to be propped to prevent further collapse in aftershocks, he said.
- NZPA