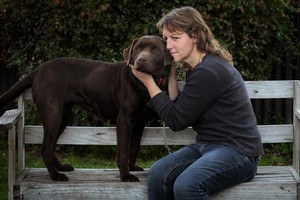 A dog whose bark is credited with saving the life of a wayward toddler faces removal from its owner - because neighbours have complained about its barking.
Two years ago, chocolate Labrador Pipa alerted owner Maureen Summerell to a toddler from a neighbouring house sitting in the middle of the road in Maketu, east of Te Puke.
Ms Summerell rushed out to get the child just as a truck was coming.
But now, the council has issued a removal notice for Pipa after complaints from neighbours about barking.
Ms Summerell said the battle with Kevin and Cathy Halliday combined with the stress of caring for her sick father drove her to put Pipa up for sale on Trade Me.
But now she plans an appeal against the order from Western Bay of Plenty District Council, claiming she is being bullied.
"I think that kid would have been flattened if Pipa hadn't barked. It just would've been it for that kid."
She believed her dog did not bark constantly and excessively, despite a council officer who visited the property taking her neighbours' side.
"She barks when the boys get home from school, but that's about it. Unless someone's on our section, I don't think she barks at all. Sure, she's hyperactive - but she's just a Lab."
Mrs Halliday said the barking had been going on for three years.
"I think the most important thing to focus on is that the man from the council ran his own investigation and came to his own conclusion. What more's to be said?"
Council animal services team leader Bruce Wills said his random visits to the property corroborated the complaints.
The removal order came after months of complaints and was a last resort after a barking collar failed to silence Pipa.