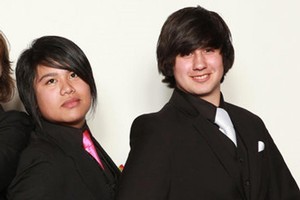 A Wellington boys' college has banned a student from bringing his male date to this weekend's school ball.
St Patrick's College student Malcolm Pimentel said he was told by rector Father Paul Martin that he had to bring a girl.
He and his friend, former St Pat's student Keith Labad, said they were Catholics and liked the school but wanted to take a stance against discrimination and homophobia.
The couple have 5500 supporters on Facebook after starting a campaign.
"This isn't just about sexuality, it's about people being treated fairly whether they're male or female, gay or straight. It's all about equality," Malcolm wrote on the Facebook page.
"I am a Catholic. I just also happen to be queer. We are not taking shots at religion, but rather, we're trying to claim what we deserve as humans and that is our right. This is not an attack on our school or religion."
In an email, Mr Martin told NZPA the ball was for students from St Patrick's and it would not allow boys from other colleges or old boys to attend the event.
He did not address claims that the school's action may be perceived as homophobic.
The director of gay young people's rights group Q-Youth, Seb Stewart, said the discrimination against Malcolm was unlawful and behind the times.
"Same-sex-attracted students should have the right to take their partners to the school ball. It's a basic human right," he told the Herald.
The Human Rights Commission receives a few complaints about pupils not being allowed to bring same-sex partners to school balls each year, but said the St Patrick's case had not been brought to its notice.
Most complainants sought information from the commission and were then able to resolve the issue with the school directly, HRC spokesman Gilbert Wong said.
Such a complaint could raise questions of discrimination under the Human Rights Act, he said.
The Facebook group has been flooded with comments.
- additional reporting by NZPA