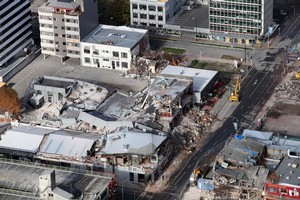 Prime Minister John Key has announced there will not be a state of emergency declared in Christchurch after taking his first look at the damage caused by the latest round of earthquakes to hit the beleaguered city.
Addressing the media after his first look at the city, the Prime Minister said he had spoken with Christchurch mayor Bob Parker and they were confident a state of emergency was not required.
Meanwhile, the Canterbury district Health Board has confirmed that one elderly rest home resident has died as a result of the quakes and the Education Minister has confirmed that most Christchurch schools will reopen soon.
Quake death
An elderly rest home resident has died after yesterday's earthquakes.
Canterbury District Health Board spokeswoman Amy Milne today said the board had been notified an aged care resident's death was connected to an earthquake.
Geoff Hipkins, chief executive of aged care provider Oceania, confirmed to Radio New Zealand that a man died in one of its Christchurch rest homes.
The man fell during the 6.3 magnitude quake and became unconscious.
Mr Hipkins said the man was seen by a doctor and seemed to recover, but died during the night.
He could give no other details, as the man's family was being told.
Schools to reopen
Most Christchurch schools were not significantly damaged by yesterday's aftershocks and should be able to reopen in the next two days, Education Minister Anne Tolley says.
Schools and early childhood education (ECE) services in the city closed after two big quakes yesterday and remained closed today so management could make preliminary damage assessments.
Mrs Tolley said the Ministry of Education had spent the morning contacting schools today and the damage was mostly insignificant, although six or seven had been hit hard by liquefaction.
"There are a number of our eastern suburb schools that have significant liquefaction, in fact more liquefaction issues than we had even in the February quake," she said.
Parents could check with schools and on the ministry website for details about which schools were open.
"There's a process we want the schools to go through, make sure that the buildings are safe, that they've got good water and they've got sewerage options," Mrs Tolley said.
"I'm confident that in the next couple of days most schools will be open and then we'll be dealing with some quite large issues for the ones that remained closed."
Ministry deputy secretary Nicholas Pole said parents and students would be advised of alternative learning arrangements if schools could not open in the short term.
"The ministry will look at reopening learning hubs if schools will be closed for any length of time," Mr Pole said.
"We have education recovery teams on standby to help schools and ECE services support distressed students. We will bring in relief teachers to support any schools if they need them."
Meanwhile, Tertiary Education Minister Steven Joyce said many smaller tertiary institutes were open, but Canterbury University, Lincoln University and the Christchurch Polytechnic Institute of Technology all remained closed.
"The three big ones are really working on making sure their buildings are safe," he said.
"There has been some superficial damage and they're just looking at engineering situations at the moment."
Canterbury University said it would make a decision tonight on whether to reopen tomorrow.
Bad weather on the way
Christchurch's weather is about to get colder, but one small reprieve for quake-weary residents is the cold southerly won't arrive until tomorrow afternoon, WeatherWatch website reports.
Frosty weather was not expected tonight, with the night's overnight low forecast to be around 5degC in the city and 2 to 3degC on the plains, WeatherWatch said.
Tomorrow's temperature is expected to climb into the mid teens, but the southerly change in the afternoon would knock that back to 10 to 13degC.
It was possible frosts could return on Friday morning before a new low moved in and brought rain by the end of Saturday and across Sunday and Monday.
Three people were admitted to hospital last night suffering from hypothermia as power remained cut to about 20,000 households overnight.
Power was now restored to 95 percent of households.
Magnitude upgraded
GNS Science has upgraded the magnitude of a damaging aftershock that struck Christchurch yesterday to a level on par with the devastating February 22 quake.
New figures released by Geonet show the aftershock at 2:20pm was 6.3 magnitude and struck at a depth of 6km.
It was first assessed as a 6.0 magnitude quake at a depth of 9km.
Seismologist Martin Reyners said the new assessment meant the quake released about three times more energy than was originally thought.
Christchurch was spared of huge damage because the shock struck further away from the city centre than the February 22 earthquake, Dr Reyners said.
"We've had strong ground movement recorded from it. The thing is it was south of the February event by three or four kilometres."
A smaller aftershock that hit just after 1pm was also upgraded from magnitude 5.5 to 5.7 by GNS Science.
It was at a depth of 10km, rather than 11kms, the new figures show.
- HERALD ONLINE, NZPA