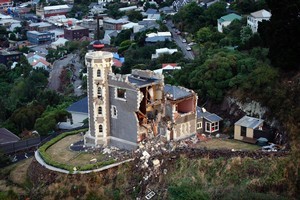 The tower of the historic Lyttelton Timeball Station - which suffered significant damage in the February 22 earthquake, has collapsed in today's magnitude 6 aftershock.
While some of the building remains standing, the site is too dangerous to enter at this time for an assessment of its state to take place.
Work had begun on dismantling the building two weeks ago, with ballasted containers and straw bales placed around the site.
The immediate area had already been fenced off following the February earthquake that severely damaged the 134-year-old iconic landmark.
New Zealand Historic Places Trust said Timeball Station staff and contractors working at the site are safe and there has been no damage reported to surrounding properties from the collapse.
"The absolute priority is ensuring public safety. Considerable care and attention had gone into the dismantling process to safeguard people as best as possible.
The protection measures have been successful," NZHPT chief executive Bruce Chapman said.
The dismantling plan was adopted to increase the likelihood of salvaging building materials to help with any potential future rebuild of the station building, and Mr Chapman said it is too early to speculate on the future of the Timeball Station until a full assessment has been undertaken of the site.
- NZ Herald Staff