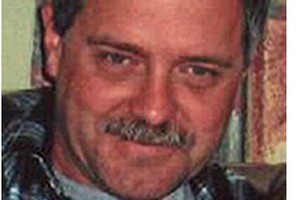 The mother and son of a missing Palmerston North man have made an emotional plea for information on his whereabouts amid rising suspicion his disappearance is the result of a homicide.
Brett Hall, 47, was last seen on Sunday, May 29 at his lifestyle block off River Road, north of Parakino, 20km from Wanganui.
He was reported missing last Tuesday.
Police have announced a team of detectives are working alongside search and rescue personnel, treating the case as a homicide.
Mr Hall's mother Lee Hall this afternoon fronted a media conference together with his only child Damian Hall, 23, from Whanganui.
She described Mr Hall as a private but family orientated man who was idolised his two young grandchildren.
His disappearance was heart wrenching for his family, she said.
"His family needs to know where he is. Not knowing is tearing us all apart.
"Not knowing where he is is doing my head in. I can't think straight, I don't sleep well at night."
"No matter how trivial it might seem to you please, please come forward because if the Police think it's trivial they can put it aside, but if it means something it may help in finding him."
She said it had been her son's dream to buy the lifestyle block off River Road and it had been his focus for the last year.
Meanwhile, Senior Sergeant David Kirby said the team of homicide detectives had been assigned to investigate Mr Hall's disappearance to make sure police do not miss out on evidence.
He revealed Mr Hall has a "chequered history" and has relationships with people who are known to police - but did not go into detail about his past.
"Although we don't know yet whether a crime has been committed it is prudent for us to operate as if we were dealing with a homicide. We do not want to get two weeks or two months down the track, find out that some harm has come to Mr Hall, and then have to try and back capture a wealth of information,"
Since Wednesday about 20 police and volunteer Land Search and Rescue personnel have been scouring a 16sq km area for Mr Hall, who is described as caucasian, 1.82m tall and of medium build.
It was thought Mr Hall was still on his lifestyle block after police found a caravan on the property unlocked, with his vehicle and quad bike nearby.
The possibility he has been lost or injured hunting has not been ruled out, Mr Kirby said.
However, search and rescue teams would have expected to have found some trace of him by now if that was the case, he said.
Police want to hear from anyone who had seen Mr Hall or his 2004 Toyota Hilux, which was red double cab vehicle with a white canopy, in the past week or two.
It is possible some friends may still know Mr Hall by his former nickname 'Jimmy', police said.
- Herald Online