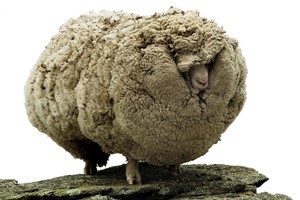 Shrek, the hermit sheep that became a jet-setting celebrity, died at his Bendigo home yesterday but his legacy will live on, says his owner.
"It's been a fantastic journey but he's left us with a legacy and it will continue," said John Perriam of Bendigo Station.
Aged 16, and said to be in pain through age-related illnesses, Shrek was put down yesterday morning, on the advice of a vet.
"His wellbeing was our number one priority. He's been under the care of a vet and we were told it was time to spare him any more pain. He was coming up 16 and that's an incredible age for a sheep. "
"It was a hard decision in some respects, but it's fitting his journey ended the way it did, so peacefully, " Mr Perriam said.
Shrek gained international fame in 2004. The story of how shepherd Ann Scanlan caught the sheep with the mammoth fleece that had avoided being shorn for six years captured international attention. Media from around the world reported on Shrek being shorn of his 22kg fleece.
He became the subject of three books and featured prominently in a fourth, raising funds for the Tarras School near Bendigo and the Cure Kids charity, lifting the profile of the wool industry and raising hundreds of thousands of dollars.
A marketing man once told Mr Perriam the worldwide exposure about Shrek contributed $100 million to the economy.
Josie Spillane of Cure Kids said Shrek had raised more than $150,000 for the charity, which funded medical research into life-threatening illnesses affecting children.
The royalties from Mr Perriam's books, Dust to Gold and Shrek - The Story of a Kiwi Icon, would continue to generate funds for the cause.
"Shrek has given Cure Kids a phenomenal fundraising opportunity and exposure and without the tenacity of the Perriams - John and Heather- this wouldn't have happened," Mrs Spillane said.
Ms Scanlan said she initially thought Mr Perriam was "stark raving mad" for publicising the fact that a sheep had evaded shearing for so long. "You don't show people you've got woollies like that up in the hills."
Mr Perriam said mail arrived for Shrek at Bendigo Station almost every day and he had a huge fan base of people from all walks of life.
"We'll continue to tell people about Shrek and raise funds for the causes we've supported. His story isn't over."
Shrek will be cremated and his ashes scattered on Bendigo Station and on Aoraki Mt Cook "so he can watch over the South Island high country, the home of his ancestors".
A service will be held in his honour at the Church of the Good Shepherd at Tekapo and Mr Perriam said a bronze statue of the famous sheep would probably be placed in the village of Tarras.
Highlights in the life of a celebrity
* April 2004: Found by musterer Ann Scanlan on Bendigo Station
* April 28, 2004: Shorn live on national television in Cromwell with the removed fleece weighing 22kg.
* May 3, 2004: Met Prime Minister Helen Clark and Chilean president Ricardo Lagos at Parliament

* February 18, 2005: Flew to Auckland as guest of Pet Expo
* November 28, 2006: Shorn on iceberg 90km off Otago coast by Jim Barnett
* November 28, 2008: Retired, after being shorn at Auckland's Sky Tower observation deck (328m).
* May 2010: Brought out of retirement to visit Eden Park, Auckland, to promote book and to attend Cure Kid charity event in Queenstown.

* April, 2011: Meets Masterchef New Zealand chef Simon Gault and is filmed for a new television series featuring the celebrity chef.
- Otago Daily Times