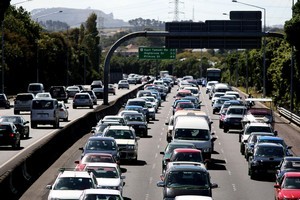 With no deaths on the road so far this Queen's Birthday holiday weekend police are crossing their fingers for a record-breaking zero road toll.
If there were no deaths for the rest of this weekend ending at 6am tomorrow it would be the first time there were no fatal accidents since records were first kept more than 50 years ago, police roading national manager Superintendent Paula Rose told NZPA tonight.
The current lowest road toll for Queen's Birthday weekend was one death in 1956.
Ms Rose said a large police presence and a reduced speed tolerance of 4km/h were partially responsible for the zero road toll but she also credited improved driver behaviour.
"The overwhelming majority of road users have been really great."
She said the zero road toll this weekend was indicative of a wider trend of fewer deaths on the road.
"We have had either a record-breaking or record-equalling low road toll every month since October last year, with the exception of April."
The overall road toll for the year stands at 120 compared to 184 at the same time last year, according to the New Zealand Transport Agency website.
If the trend continued the overall road toll would be the lowest on record by a "significant" margin, Ms Rose said.
She urged people heading home from holiday to take care and drive to the conditions.
- NZPA