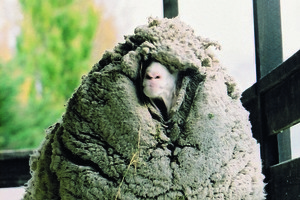 Shrek the sheep - who gained international fame in 2004 after he avoided being caught and shorn for six years - has died.
The merino wether was 16-years-old and said to be in pain through age-related illnesses.
He was put down this morning on the advice of a vet at Bendigo Station near Tarras, in Central Otago.
Shrek ended up in global headlines after he was found in an Otago cave in April 2004.
He had evaded muster for six years and carried 27kg worth of fleece, TVNZ reported tonight. An average merino fleece weighs about 4.5kg.
He became the subject of a book and was taken to Parliament to meet then-prime minster Helen Clark.
Shortly after his capture Shrek was sheared on live TV, and two and a half years later shorn again on an iceberg floating off the coast of Dunedin.
The wool raised money for the charity Cure Kids and the pictures were worth an estimated $100 million in worldwide publicity for the export industry.
- Otago Daily Times, NZPA