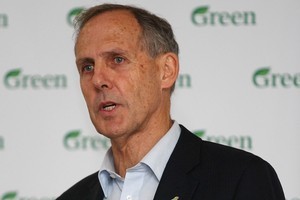 Australian Greens leader Bob Brown is confident his negotiations with Julia Gillard's Labor Government will see a carbon tax put in place across the Tasman.
Senator Brown, whose party holds the balance of power in Australia's upper house, and to a lesser extent in the lower house, is currently negotiating the shape and price of a carbon tax against stiff opposition from the Liberal party and industry.
Addressing the New Zealand Green Party annual meeting this morning he said he believed those negotiations would be successful, albeit on partially from a green perspective.
"We will I believe get a carbon price but it won't be a Green carbon price," he told about 200 Green Party delegates and members at Point Chevalier's Te Mahurehure Marae.
"This will not be a Green Party outcome, it will be a compromise outcome."
What happens in Australia with regards to a carbon charge has implications for the future of New Zealand's emissions trading scheme (ETS).
The ETS is currently being reviewed and Prime Minister John Key has said he will not throw the agriculture sector "to the wolves" by forcing to enter the scheme in 2015 as scheduled if our major trading partners are not taking similar measures.
Senator Brown said the Australian Greens would be forced to compromise during negotiations that were taking place under "a hail of criticism" from Tony Abbott's Liberal Opposition and the Rupert Murdoch-controlled media, "which is so influential in Australia".
Australian media today reported the results of a Galaxy poll for Mr Murdoch's News Limited which showed the majority of Australians were against the carbon tax.
The poll - of 500 people around Australia on June 1 and 2 - reveals 58 per cent are opposed to the tax, with just 28 per cent in favour. The remainder are undecided.
News Limited says two-thirds of voters want Prime Minister Julia Gillard to call an election before introducing the tax, and three-quarters believe it will leave them financially worse off and deliver little or no benefit for the environment.
Only 24 per cent think Ms Gillard has a mandate to introduce the tax.
The poll comes in the wake of Sunday's 'say yes' rallies across the nation which attracted tens of thousands of supporters who urged the federal government to put a price on carbon dioxide emissions.
- with AAP