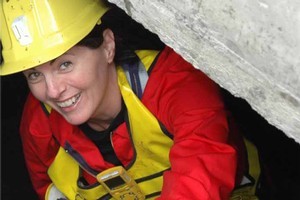 Methane gas has been found in a pipe which was the scene of a blast yesterday that claimed the life of a 48-year-old woman.
Canadian Philomen Gulland died in the fatal underground explosion. She was a maintenance planner for Watercare services.
Ms Gulland moved to New Zealand six years ago with her then-husband and children Emma and Cameron, and police had spoken to her family, District Commander Superintendent George Fraser said.
"It's an exceptionally difficult time for them and we are providing the necessary support," he said.
Fire Service area commander Murray Binning, officer in charge at the scene, said investigations were continuing into how the gas got into the pipe.
"It's a naturally occurring gas, and we are not sure of the source at this stage," he said.
"We still have no idea what started the explosion."
A camera flash in the excavation area, was one possibility, Mr Binning said.
Firefighters monitored the gas throughout the night.
"The gas readings are at favourable levels, allowing us to start the next phase of the operation," Mr Binning said.
A four-part plan has been devised by emergency services, starting with a scene examination around the entrance to the excavation site, which has been completed.
"Next, we plan to enter the excavation entrance to the pipes, and monitor the inside of the pipes using remote cameras," he said.
"There is still debris from the explosion in the excavation site and inside the pipes so it has to be examined and removed."
It was not known how long the investigation would take.
Six men also sustained injuries - one critically - similar to those sustained by "landmine" victims in the blast.
One man lost both legs and sustained serious injuries to an arm.
Director of trauma services Ian Civil said the injuries sustained by the workers were a combination of puncture wounds, blunt injuries caused by striking objects and blast injuries from a pressure wave caused by the explosion.
It was "too early to say" whether the critically injured man would make a full recovery, Mr Civil said.
"It's always hard to tell the degree of recovery patients who have critical injuries are going to make and there is obviously physical and psychological recovery that needs to be considered."
Emergency services remained at the scene overnight, and air was being pumped into the space in an effort to make it safe so that a thorough scene examination could be carried out, and to enable the maintenance work to continue as scheduled.
Details emerged last night of sparks flying in the seconds before the explosion - as officials struggled to explain the cause.
Workers say they smelled gas in the week before the incident.
Worker Ramon Milner - who believes his life may have been saved because he turned up late for work - said there had been a strong scent of gas all week and he was surprised the site manager hadn't shut off the valves.
"We weren't supposed to smoke on the site, but some people still did."
The force of the explosion was so intense two other workers were hurled from the trench they were working in on to clear ground.
One of those was James Keinzley, who emerged dazed and with black residue covering his face.
"I had just left the hole when the explosion happened. I have never seen anything like it in my life, there were limbs everywhere. I saw it all. Some of the guys were cut to pieces.
"We were grinding just before the blast happened. There were sparks."
Last night he was drinking with friends to try to blank out the memory.
"I can't get it out of my head. It will always stay with me. But you have got to go on."
Among those taken to Auckland hospital was seriously injured Watercare worker James Millard, 42.
Close friend Martin Pringle, who was at the hospital, said Millard was lucky to be alive because he was metres away when the woman was killed.
"Someone has gone against safety and been very slack for this to happen."
Millard's wife, 8-year-old daughter and friends were by his bedside as he was treated for deep lacerations around his head, face and body.
"He's a big guy, he's tough. His boss Harry is a lot worse off."
Staff at the company were initially keen to speak about their experience but shied away after company lawyer Grant Nicholson - a partner at Kensington Swan - became involved.
Nicholson, who includes health and safety among his specialities, is quoted on his website saying: "My job is to help our clients get paid."
The scene remained cordoned off overnight with emergency services continuing to monitor high gas levels.
Auckland City police district commander Superintendent George Fraser said: "The cause of the explosion is still unclear and gas levels remain high, restricting access to the area."
He said residents were not in danger. Air was being pumped into the space so investigators could study the accident scene today.
The explosion occurred soon after 8am, about 30 minutes after the beginning of an inspection tour of the $240 million project to lay a 28km pipeline from South Auckland to the central suburbs.
Dennis Nand, a taxi driver living a few houses from the blast site, said there was a "sonic boom" as a shockwave passed through the pipes below his house.
"It looked like there was something crawling through the walls. It was a massive explosion."
He had noticed a strong smell of gas when he returned home from his taxi shift at 6.30am. "You could smell it everywhere. You wouldn't want to light a cigarette."
Mt Smart Rd resident Raijeli Talemaira and her children woken by the explosion. "It was huge. I actually thought it was an earthquake."
Family members of workers gathered at the police cordons, desperate for news.
Mt Smart Rd resident Rongo Whanga, 42, was waiting to find out about her cousin Billy Chan, who later emerged safe.
St John Ambulance duty operations manager Andy Gummer said some of the injuries were horrific.
"If you could imagine a landmine going off, a lot of the injuries were similar to that kind of blast."
Three of the injured were discharged yesterday.
Reporting team: Abby Gillies, Andre Hueber, Bevan Hurley, Celeste Gorrell Anstiss, Chloe Johnson, David Fisher, Edward Rooney, Frances Morton, Kieran Nash and Leigh van der Stoep