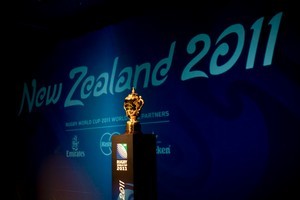 Uruguay, Tunisia and even Kazakhstan are lining up to replace any team that drops out of the Rugby World Cup.
Any possibility that the Fijian team would miss the tournament because of New Zealand's travel bans was dismissed yesterday by the Fiji Rugby Union and the International Rugby Board.
But it is understood contingency plans exist to replace any team unable to get to the tournament.
Romania qualified for the 20th and final spot at the World Cup in November last year in a playoff between four teams.
The others in the playoff were Uruguay, who narrowly missed out in the Americas qualifiers, Tunisia, who lost the African final, and Kazakhstan, the number two team in the Asian Five Nations.
Uruguay lost to Romania in the finals, putting them among the first teams in line if any drop out of the World Cup, though other factors such as world rankings could come into play and the decision ultimately rests with tournament organisers.
The Uruguayans qualified for the 1999 and 2003 World Cups, where they beat Spain and Georgia but lost all other games. Rugby is their country's the third most popular sport after soccer and basketball.
After Uruguay, Tunisia and Kazakhstan could be next in line for the World Cup. Though perhaps little-known, Kazakhstan is almost a powerhouse in international rugby, at number 31 out of 94 countries in the IRB World Rankings.
According to the Kazakhstan Rugby Union website, kaz-rugby.kz, the history of rugby in Kazakhstan began in 1966. The country was then part of the Soviet Union, which was bringing back rugby after banning it in 1949 for it being a bourgeois game, says the website.
Kazakhstan began to enter teams in USSR-wide championships and later in international competitions.
The country is noted for its success at Olympic-level boxing, while its most popular sports include soccer.
In the past decade, the Kazakhstan Rugby Union has gone from placing 11th out of 16 at the 2003 Asian championships to second place last year.
Twenty teams competed in the most recent Asian championships, with the final five teams - Kazakhstan, Japan, South Korea, Hong Kong and the Arabian Gulf - contesting the Five Nations.
Overall, Finland is at the bottom of the world rankings.
The Fiji Rugby Union said last week that travel bans imposed by New Zealand after Fiji's military coup could stop some players attending the World Cup.
Fiji's national Olympic Committee then suggested this week that the rugby team should boycott the tournament.
But rugby union chief executive Keni Dakuidreketi hit back yesterday that the World Cup had nothing to do with the Olympic Committee, and a boycott was not on the cards.
An IRB spokesman said yesterday that the Fijian team would not miss the tournament.
"Fiji will be one of the 20 teams at Rugby World Cup 2011," he said.
Kazakhstan facts
31 Ranking in world rugby - Uruguay is 22nd and Tunisia is 36th out of 94
139 Ranking in world soccer
9 Ranking in land area - 2.7 million sq km, or 10 times the area of NZ