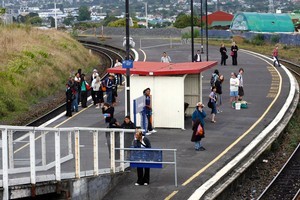 Labour is describing the Transport Minister's attitude towards Auckland's CBD rail loop as a "hate crime".
Auckland Council says there is a business case for the link but Treasury has rejected the council's cost benefit to the economy, telling it to go back to the drawing board before the Government will consider funding it.
Steven Joyce says a lot more evidence is needed before he will fund the rail loop.
Labour's Jacinda Adern says the Government is pigheadedly and arrogantly dismissing what Aucklanders overwhelmingly want - a highly modernised public transport system.
She claims bus capacity in the inner city is constrained and trains almost at capacity, so the rail link is a necessity.
She also claims the move has more to do with the Government's dislike of Auckland mayor Len Brown than anything else.
However Auckland councillor Cameron Brewer says the council's leadership has failed to present a compelling and credible case.
"There was always a level of arrogance around this that because it was
a mayoral election campaign promise and part of the mayoral vision, the Government should somehow instantly fall behind the project without any questioning or any pushback."
Cameron Brewer says despite all the rhetoric, the reality is the council's still miles off convincing the Government to part with its money.
- Newstalk ZB