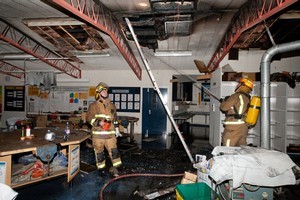 Detectives and fire investigators will this morning return to the scene of a fire which gutted the technology centre of Fairfield Intermediate School in Hamilton last night.
Emergency services were called to Fairfield Intermediate School about 6.45pm after neighbours called the Fire Service and said they could see flames.
The blaze gutted the school's two-storey technology centre, where it was believed to have begun. As well, two storerooms and another classroom were badly water-damaged from burst pipes.
Flames spread along the building's ceiling, but the 36 firefighters and eight fire appliances who were called to the scene on Clarkin Rd were able to quickly contain the fire and stop it from spreading, a Fire Service spokesman said.
Senior Sergeant Jeff Penno said a scene guard remained at the site overnight.
"It's too early to say if the how the fire started or if it is suspicious or not however the scene will be protected and treated as such until we know otherwise."
- Herald Online