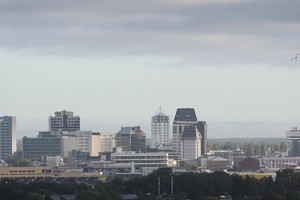 Canterbury has a nearly one-in-four chance of another massive earthquake in the next year, the Government's research agency GNS Science warns.
Christchurch City councillors and community board members were told of the risk at a meeting of the Canterbury Earthquake Recovery Authority (Cera) and the figures were made public by councillor Sue Wells in her blog, The Press reported.
The advice from GNS Science was for a 23 per cent chance of a magnitude-6.0 to 7.0 quake in the next year, dropping to a 10 per cent risk the following year.
There was also more than 90 per cent chance of a magnitude-5.0 to 6.0 shake in the next 12 months, falling to more than a 70 per cent chance in the following year.
One-hundred-and-eighty-two people were killed in the magnitude-6.3 quake that struck on February 22.
At the start of the month GNS Science said there was a 25 per cent chance of an aftershock of magnitude-6.0 or more affecting Christchurch or Canterbury during the next year.
GNS Science spokesman John Callan confirmed the figures given to Cera and councillors which were calculated by GNS Science hazards modeller Matthew Gerstenberger.
The figures related not just to Christchurch but the whole Canterbury aftershock zone, from Sheffield in the west to Rangiora in the north, Lincoln in the south and across Banks Peninsula.
Dr Gerstenberger said the longer-period aftershock forecasts given to Cera were based on earlier projections.
- NZPA