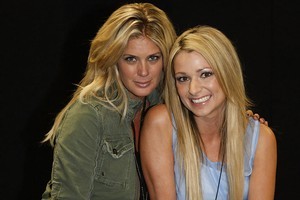 Organisers of the Christchurch earthquake telethon say the event was a "stunning success", despite the finale attracting virtually the same audience as a documentary on Prime.
Almost 890,000 people watched some part of the 12-hour Christchurch Rise Up event on Maori TV last Sunday as stars including Rachel Hunter and Pippa Wetzell urged viewers to make a donation.
It was the channel's biggest ratings winner, surpassing the David Tua-Shane Cameron fight in 2009.
Almost 158,000 Kiwis tuned in to watch the conclusion at 9pm. At the same time The Real King's Speech, a Prime documentary about a stuttering 20th century British monarch, had only 730 fewer viewers. Online viewing figures are still being compiled but it is thought tens of thousands streamed the event.
Maori TV chief executive Jim Mather said he was thrilled by the numbers.
"Most people thought the telethon concept was dead and buried and that it had seen its day but I believe it was a stunning success."
By Friday, the telethon had received $2.72 million - about 62 cents for every New Zealander.
TV3's 2009 Big Night In telethon raised 45 cents a person.
Telethons of the mid-1980s raised about four times more when adjusted for inflation.
Fonterra's last-minute $1m donation helped. They also contributed $500,000 to production costs and Maori TV paid $100,000 towards hosting the show.