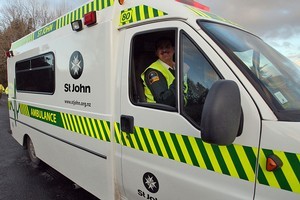 A belief that butter cools burns is one of 10 common myths about what to do in medical emergencies, St John Ambulance says.
St John medical director Tony Smith says another myth is that in a life-and-death situation "it's better to do nothing than risk making things worse".
If someone is in a life-and-death situation, doing nothing could mean the person dies, Dr Smith says. "Doing something is far more likely to help the person than to harm them."
Even people without first aid training could call 111 and follow the instructions given by the ambulance call-taker, he says.
The idea that butter cools burns came from before water treatment was discovered, Dr Smith says. Applying butter to wounds could actually make infections worse and people should instead pour cool water on the burn for 20 minutes.
Other myths include:
"If you have a nosebleed, you should tilt your head back."
A person with a nosebleed should instead tilt the head forward and pinch the soft part of the nose firmly for 10 to 20 minutes.
"If an arm or leg is bleeding heavily, you should tie a tourniquet above the injury."
Applying a tourniquet could make bleeding worse and the best thing is to apply pressure to the wound and cover it with a dressing once the bleeding has been controlled.
"You must never, ever move someone after a car crash, even if they are not breathing."
If people are not breathing they need to be moved in order for CPR to go ahead. However, a person who is breathing should not be moved unless in immediate danger.
"If a child drinks poison, make them vomit."
Making a child vomit could cause serious internal damage and the best thing is to keep the child calm and call 111.
"I feel some discomfort in my chest, but it is just indigestion."
If a person suffers from chest discomfort which does not ease after 15 minutes, or is in severe pain, he or she might be having a heart attack and an ambulance should be called.
"If someone is having a seizure, put something in their mouth (such as a spoon) to stop them biting their tongue."
Forcing an object into someone's mouth could break a person's teeth or injure the mouth or tongue. The best thing is to protect them from injuring themselves during the seizure.
"If someone feels faint, put their head between their legs."
When a person faints the best thing to do is to lie them on the floor and raise their legs a little.
"A stroke is not an emergency."
You should dial an ambulance if you think someone is having a stroke.
- NZPA